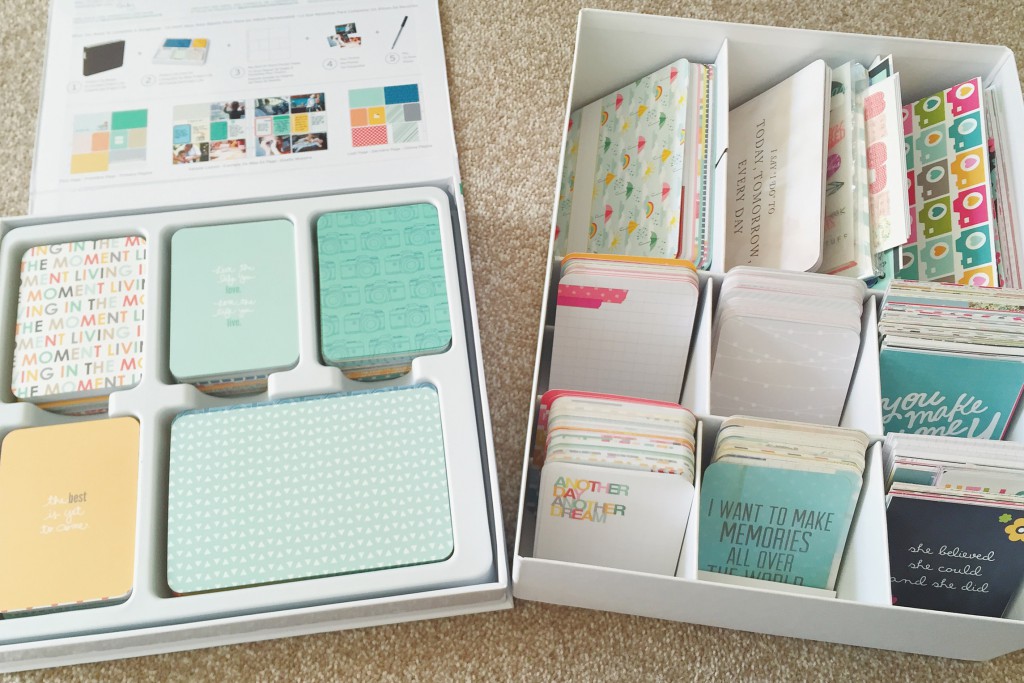 I'd seen Project Life in my local Hobbycraft last year and was really intrigued by it but it wasn't until I started seeing it crop up on my Instagram and YouTube that I decided it needed a further look. I really wanted to start printing my photos and using them. Now, a word of warning, listen to people who say you don't need a Core Kit or lots of different cards. It is addictive.I hadn't even started before I somehow ended up with a core kit, a value kit and several smaller kits from Facebook groups, TK Maxx and Hobbycraft. I think the worst was TK Maxx which had not only Becky Higgins kits but also Pocket Pages collections. When things are reduced I have a tendency to buy them – something I really need to work on! I didn't even have an album at this point.
I wanted to start out with one album for all our wedding and honeymoon photos. I found a lovely person on Facebook who sent me 60 cards from the Project Life Southern Weddings collection and I also picked up the chipboard stickers from the same range.
I then found lots of other cards which were too pretty to resist. I now plan on starting a new album in January (it's been so incredibly hard to resist the Christmas sets!). I'm not going to be doing it weekly, as working full time I can go weeks without doing anything worth noting. I'll try and do it monthly over however many pages it takes. Otherwise it will just be done by events and in a chronological order. I think either of these will work best for me.
One of the first things I found was a 4×4 Instagram album set in Home Sense. I've been using it pre-wedding as a test really to see if I can do it. I haven't been very creative with it but it's been lovely to print out photos and see them all in an album. This little album tells me I spend most of my time in the New Forest on the weekends.
Do you scrapbook or do photo albums?