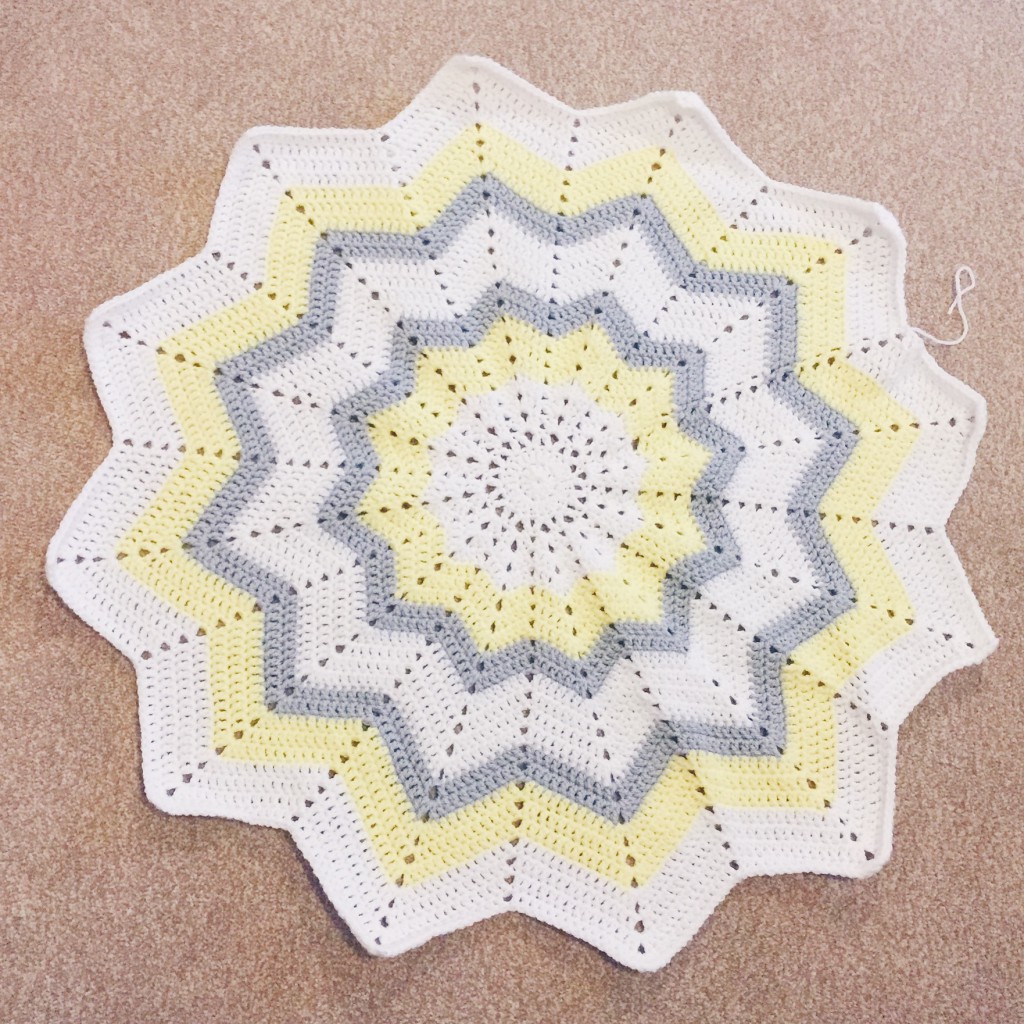 This year I ticked off another item on my 30 before 30 list – I completed a crochet blanket. Well I haven't technically completed it as I'd written specifically a granny square blanket and as you can see this is definitely not square shaped! But you know what, I'm going to let it slide as I'm really impressed I actually completed a blanket!
I created this star-ish shaped baby blanket using aran yarn in white, pale yellow and grey. I love this colour combination! I used the Rainbow Ripple Baby Blanket pattern, which I'd found on Ravelry. I like to think of it as a star rather than a ripple.. it could be an exploding star? Or a star like the sun?
Using aran yarn and a 5mm hook it was reasonably fast to make. Well it actually took me 8 months according to Ravelry but I started it around Christmas time and left it for months sitting in a basket. I decided to get back on it in July and finish it while watching marathon sessions of Once Upon a Time.
I made one glaringly obvious mistake, which I didn't notice until it was far too late. I just missed a stitch. I don't know how. I also have one panel where there are say 19 stitches on one side and 21 on the other instead of 20 20. Again, no idea how I did it, but you can't really notice this mistake so hey ho.
If you're after a quick baby blanket that's a bit different, I'd definitely give this a go. And no, I'm not pregnant, just thought a baby blanket would be a lot quicker to complete than a throw! Does that count as cheating?
I find crochet really relaxing and it stops me fidgeting so much while watching TV or a film. I have a few Christmassy crochets on my to do list that I hope to share nearer the time.
Do you crochet? What are you favourite blanket patterns?