Here's my September Bullet Journal setup. I've kept it quite simple this month as baby is on the way and if it arrives early then my poor bujo will probably not be used for awhile.
Monthly Spread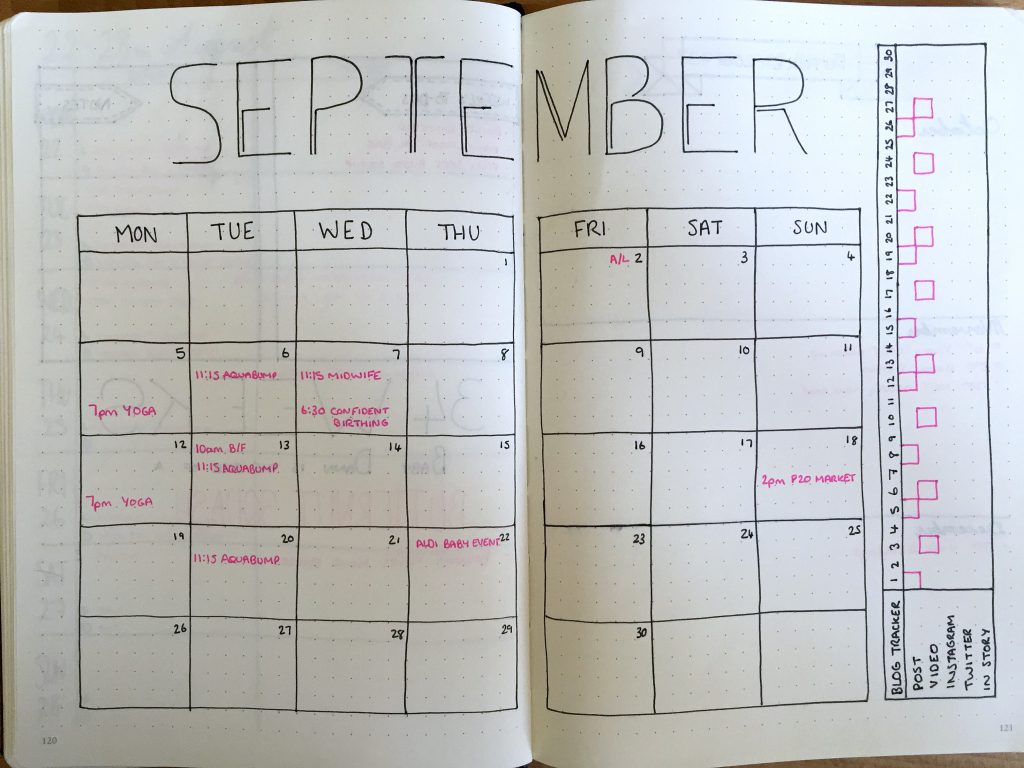 This month I've made my calendar a little bit bigger and have taken away the habit tracker and next month log. The habit tracker is moving to the weekly spreads so see below for that. The following month is October, when baby is due, so I thought I'd give it a miss. I have however created a future log to use instead.
On the right I've included a blog tracker. I found that the content calendar last month was much easier to use online rather than in my bujo. A blog tracker shows me when I should be posting blog posts and video with squares around the dates. For social media I will add dots on the days where I do them.
Future Log
I've opted for a future log this month to cover the next three months. Keeping it really simple I'm just going to add in dates here. A future log is somewhere to write down scheduled appointments that aren't for the current month. I might use it for tasks that need to get done that month like writing all the Christmas cards!
I was going to draw a little calendar but who has time for that – there's one at the front of my journal anyway.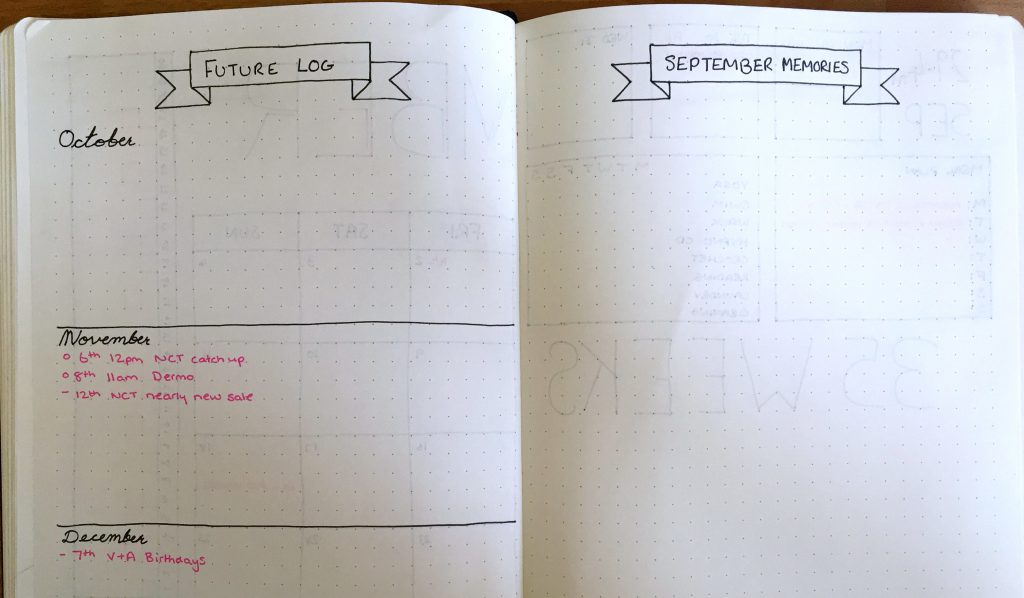 September Memories
I really enjoyed doing this in June so I've decided to bring it back for September. I don't know what will happen in September, I have literally nothing planned in case baby arrives early. As of the 1st September I'm off on maternity leave so I have time to get ready for our little monkey and maybe do some baking.
Weekly Spread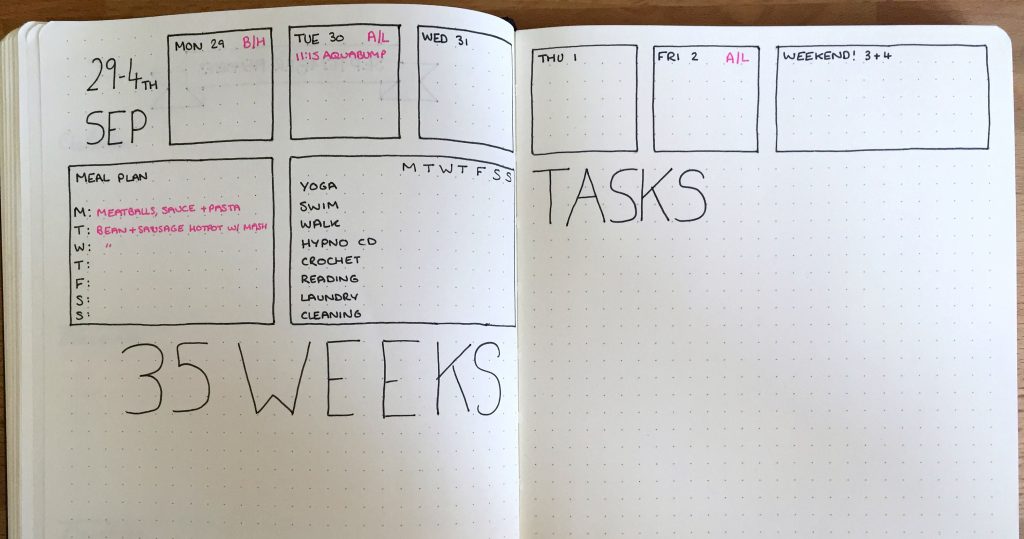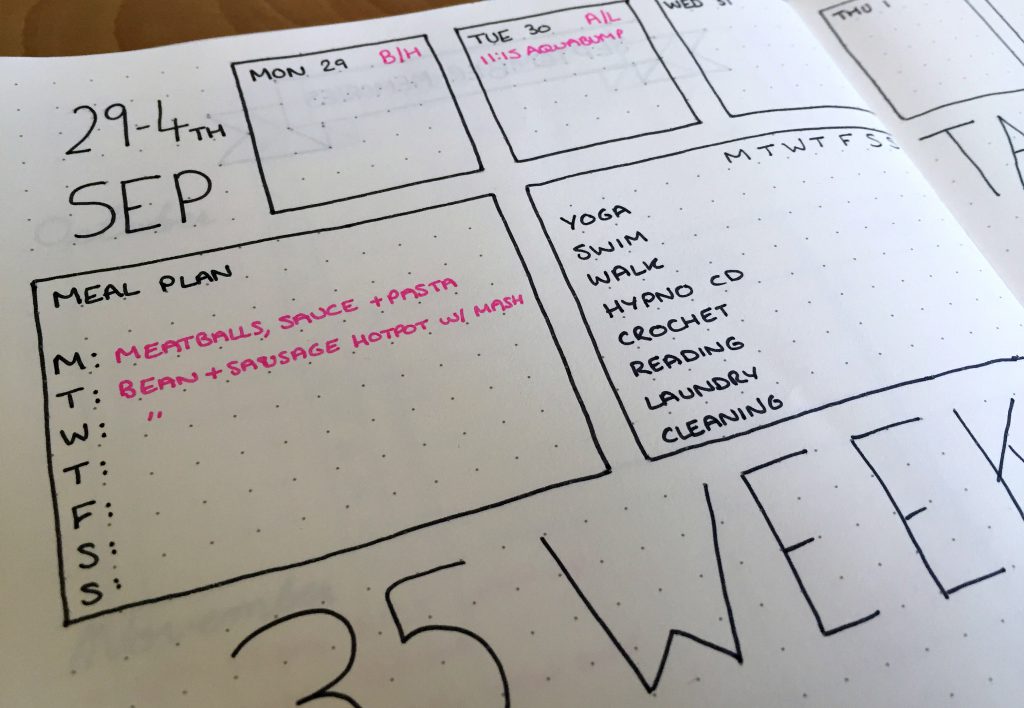 For my weekly spread I've gone back to one of my old designs. I have boxes for the days of the week along the top with appointments and weather. Tasks will be kept in one list and I'll mark any with a star if they are important. I've added my habit tracker here and I feel like I'll update it more often now it's in my weekly spread.
I've added my meal plan here as I'm back to weekly meal plans. The monthly meal plan isn't a goner as I will definitely be using it once baby has arrived. Just September and October may be a bit more unpredictable so I don't want to plan too far in the future.