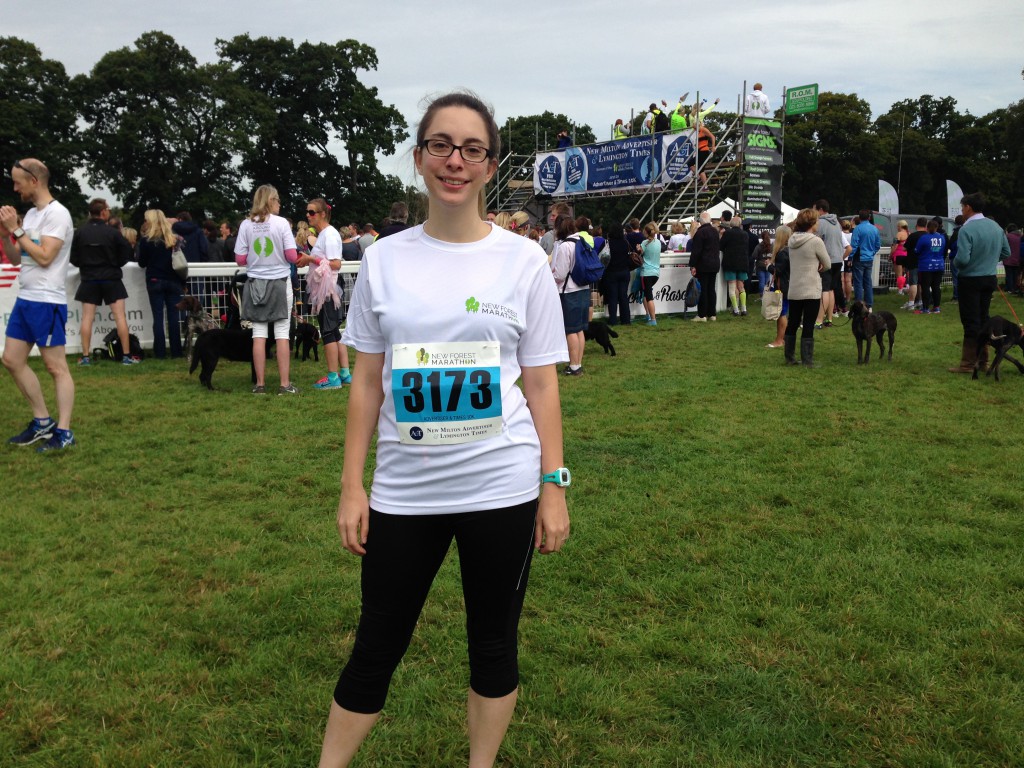 Last month I ran my first 10km race and I completed it in 1 hour 20 minutes. It was the New Forest Marathon 10km and it was such a beautiful setting to run in. I'd really struggled the previous month with illness and lack of motivation to run so my training went a bit out of the window.
I am really proud of myself for completing it after I was determined not to waste the entry fee by giving up. It didn't matter that I was being lapped by half marathon runners, or that someone at work can do their 10km in 30-35 minutes – the same time it takes me to do a 5km! I finished it with grit and determination.
We got to the New Forest Marathon near Brockenhurst nice and early to beat the traffic. It seems a lot of people didn't and they had to delay the half marathon as people were stuck on the road trying to get in. Our race started about an hour or so late and in that time I was getting really hungry but didn't want to eat before running. I also woke up with a horrible sore throat and didn't want to drink much as the porterloos weren't in a good state by the time I attempted to use them.
When it was our turn they called us in for a warm up which was really fun and I think it's what helped me get through the run. Then it was time to set off. The race was marked out really well so whichever race you were completing you knew were to go. My only issue was the km markers which didn't seem to be in sync with my Garmin Forerunner watch. Probably not a huge issue for 5/10km races but I've read there were similar issues for the half and full marathon mile markers.
I wanted to stop and take photos throughout the run as it was amazing to run through the New Forest. I resisted and kept running and only walked when I really had to. I'm still a newbie runner so there were a few walks but I tried to keep them to less than a minute to catch my breath.
Once I had the finish line in sight I let Simon run on ahead and I tried to put my all into sprinting to the finish. My body at this point decided to give up and it was pretty much a crawl to the finish line. I was so grateful to get under the finishing bridge and receive my medal. The goody bags were really good with some water, crisps, sugar tablets and foot cream. After lying down for a bit we got up and collected our bags and headed for the food stalls. Burgers in bellies we sat down and listened to one of the bands playing before heading home.
I'm hoping to keep up with running now we're back off honeymoon but it's definitely going to be a struggle when it's dark before and after work. How do people run outside when it's dark? Any tips for winter running? My next goal is to do a sub-30 minutes 5km. My plan is to do parkrun on Saturdays, a longer run on Sundays and speed intervals one day in the week. Wish me luck, I need it!