I am determined this summer to get our kitchen sorted. We've been in this house over two years now and it is still a blank canvas. Designing Eleanor's nursery has given me the decorating bug. I am desperate to make my kitchen more liveable, have more storage and be more of a central hub of the home.
Here are a few of the products that I am looking at to make my kitchen more homely.
Polka Dot Tea and Coffee jars
I have the Emma Bridgewater Polka Dot wooden spoons utensils jar and I am desperate for the matching tea and coffee jars. They are beautiful and I have quite a few of her mugs. I love her designs and these would add a bit more colour to the room.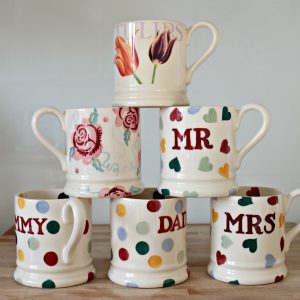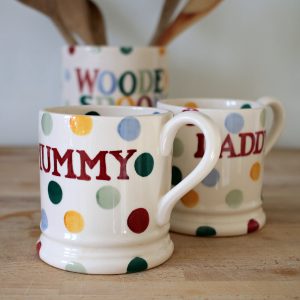 Brick wallpaper
I love the idea of having an exposed brick wall. As that isn't at all possible then if I can find some aged red realistic brick wallpaper then I'll be happy. Any recommendations on some realistic wallpaper?
Bread Maker
As I don't have time to bake I think a bread maker would be so useful like these Breadmakers by Panasonic. Eleanor loves bread and I do worry about the amount of salt in store bought loaves. There are some baby led weaning bread recipes that I can't wait to try. I really want to make her some scones, which you can do with some of these bread makers.
Mug Shelf
All these pretty Emma Bridgewater mugs deserve to be on show. I want to put a shelf up somewhere to display them. Or have them hanging down but I fear if I put hooks into my cabinets they will fall down – they're already warping under the weight!
Cake Mixer
Ever since I was at university I have wanted a stand mixer. Of course it has to be a KitchenAid in Pistachio. I don't have as much time to bake as I used to but I still really enjoy it. I used to always make cupcakes or banana bread. There used to always be something new in the oven. Now instead I bake sugar free treats for Eleanor.
Trolley
The problem with some new build houses is the complete lack of storage. All our cupboards in the kitchen are full and we need more space. I like the idea of getting a kitchen trolley. What I have in mind is to do an IKEA hack of the KALLAX with some chopping boards on top. I've obviously been spending too much time on Pinterest.
Tiles
Oh please, pretty please can I have some tiles? We cook a lot of bolognese and you can definitely tell that by the state of the walls surrounding the hob. I'd love to have tiles all they way around the units. I'd like plain white ones but really, just give me something easy to clean! I'm debating between white or a sage green. What do you think?
Is the kitchen the heart of your home?
*This post contains a sponsored link.