Last month in the update I mentioned I'd started the Couch 2 5K program and this month I've finished it and completed my first parkrun. I'm now two parkruns down and I am loving it. Actually, I'm running along thinking why on earth am I doing this to myself, but when I get to the end I feel so happy that I pushed myself through. My time has also been getting better with a couple of runs during the week too. As I said in the C25K post I've signed up for a 10km race in the New Forest in September which seemed like such a good idea at the time!
This month I've been able to spend a bit more time with family. I think the weather definitely helps as you get out more and have BBQs. With my parents we visited Abbotsbury Swannery and had a wonderful day out in Dorset. There's nothing better than surrounding yourself with the people you love. My step dad also built us a wonderful picnic bench for the garden which is amazing and I'm so grateful for. We bought a parasol and now I want to make some matching cushions.
Tomorrow will be 100 days until our wedding so I am cacking myself at all the things left to do. We got our musician sorted this month and I posted the save the date postcards we made.
Monthly favourites
I did quite a bit of Primark buying this month but I thought you might be tired of endless Primark hauls. But my favourite piece has got to be this backpack which has been so useful. When we go walking in the New Forest or out and about where I don't want a bag hurting my shoulder, I find a backpack evens things out and I don't hurt myself. I also wanted something I could screw up and take to the swimming pool (I've started swimming – I'm still getting over my fear of public swimming pools. It wasn't helped by reading in the news recently that you get red eyes not by chlorine but by sweat and urine binds with the chlorine… yuk).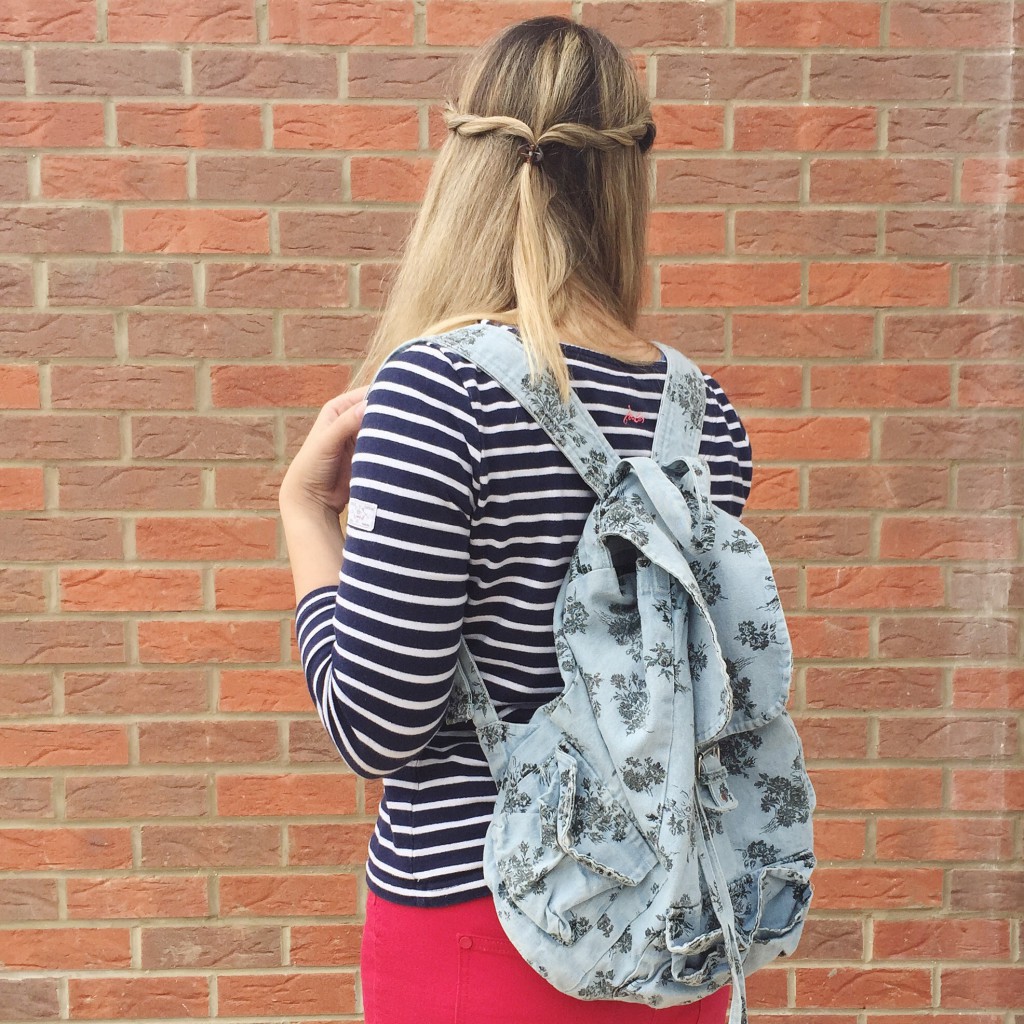 Favourite blog posts this month
As I went through a veggie week, Life Outside of London dropped wheat from her diet. The food looked delicious and I completely agree that you should take baby steps when it comes to changing your diet.
Since I've started running I've been on the hunt for tips and plans to improve my time and technique. I stumbled upon Charlie's blog called The Runner Beans and have been avidly reading the archives for all tricks I need. She is such an inspiration and reading her advice and experience of races has kept me going over the last couple of weeks.