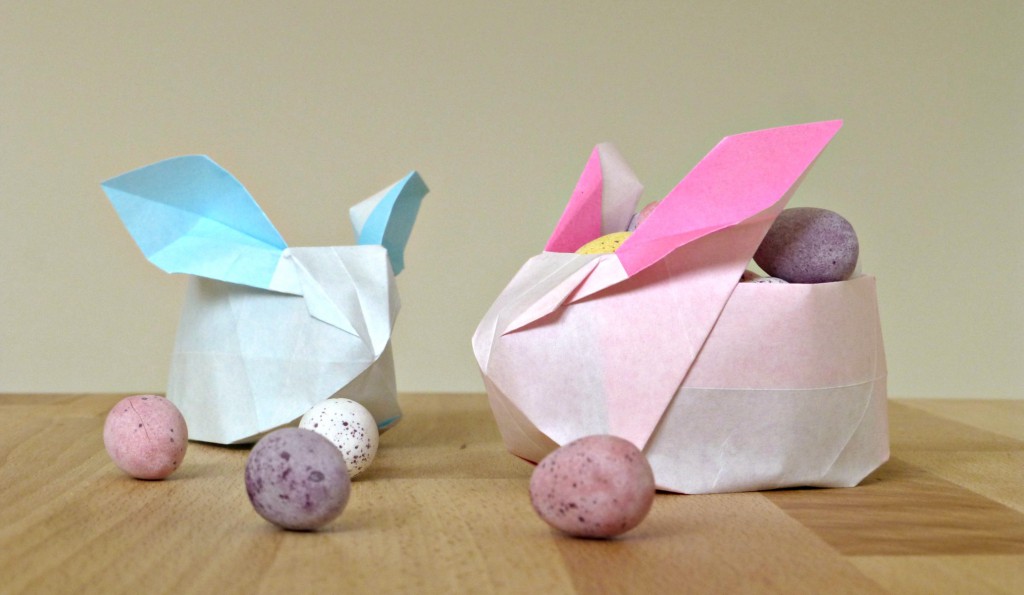 These little origami bunnies look quite complicated to make but are really quick and easy to do. They're perfect for displaying mini eggs or popping a cream egg in there as a gift. To make these bunnies I followed a YouTube video, she made each step really clear so definitely give it a go. You can also see how I did it on my vine channel.
You could also create some origami flowers to decorate your place for Easter. If you have spare skewers or chop sticks, pop the flowers on top and put them in a vase.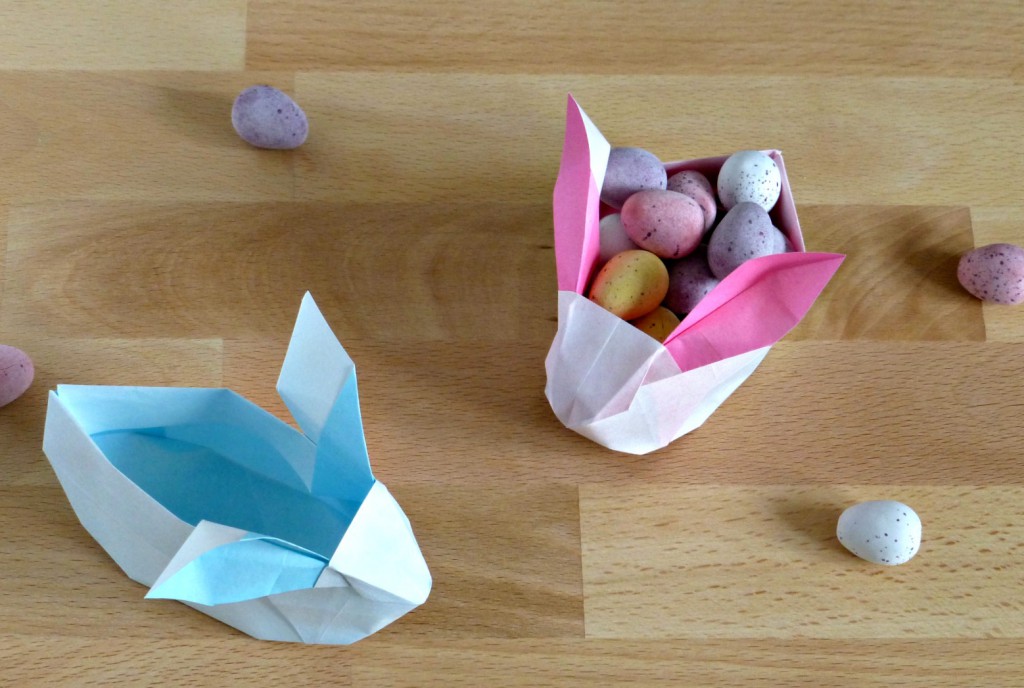 I seem to have a need to display mini eggs. I'm not exclusively eating mini eggs, I also have some IKEA chick marshmallows and some malteaster bunnies. I used cupcake cases to pop the eggs in and drew a daffodil shape onto some pretty card stock I found. If you have a printer there are so many templates out there to use so you don't end up with wonky (although more authentic) petals.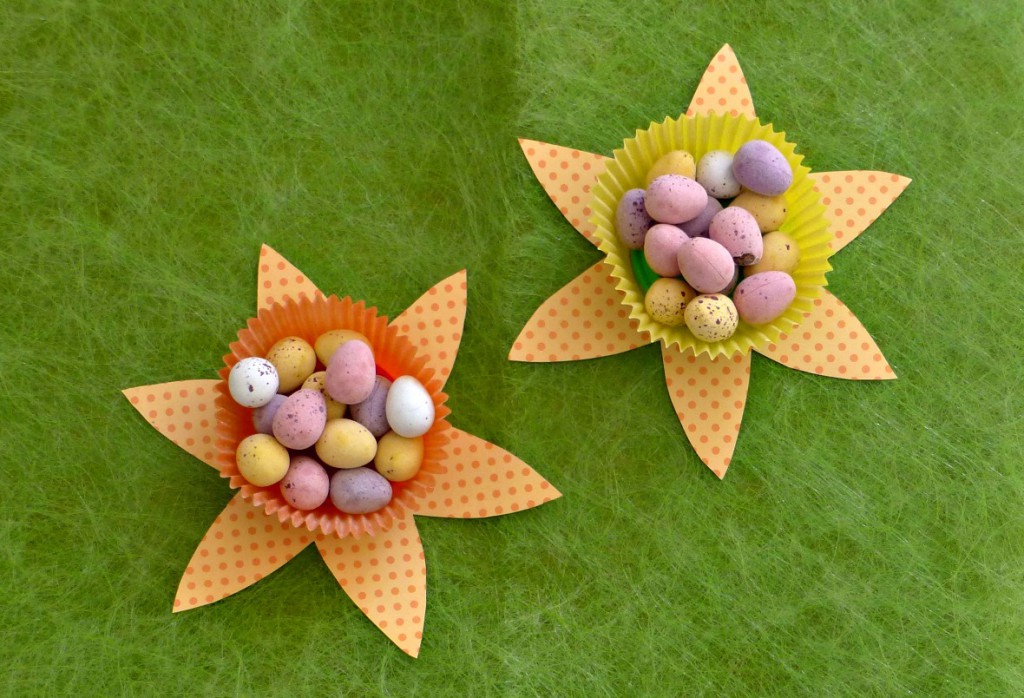 I have spent far too long trying to think of a way to photograph this little chick. I think I probably spent longer imagining ways to pose it than actually crocheting it. I used a crochet pattern called Birds of a Feather which was surprisingly quite easy to do. I didn't have eyes or felt for the nose so I just used some more yarn and stuffed it full of filling. I found this pattern on a site called ravelry, which if you like to knit or crochet, has an amazing source of patterns!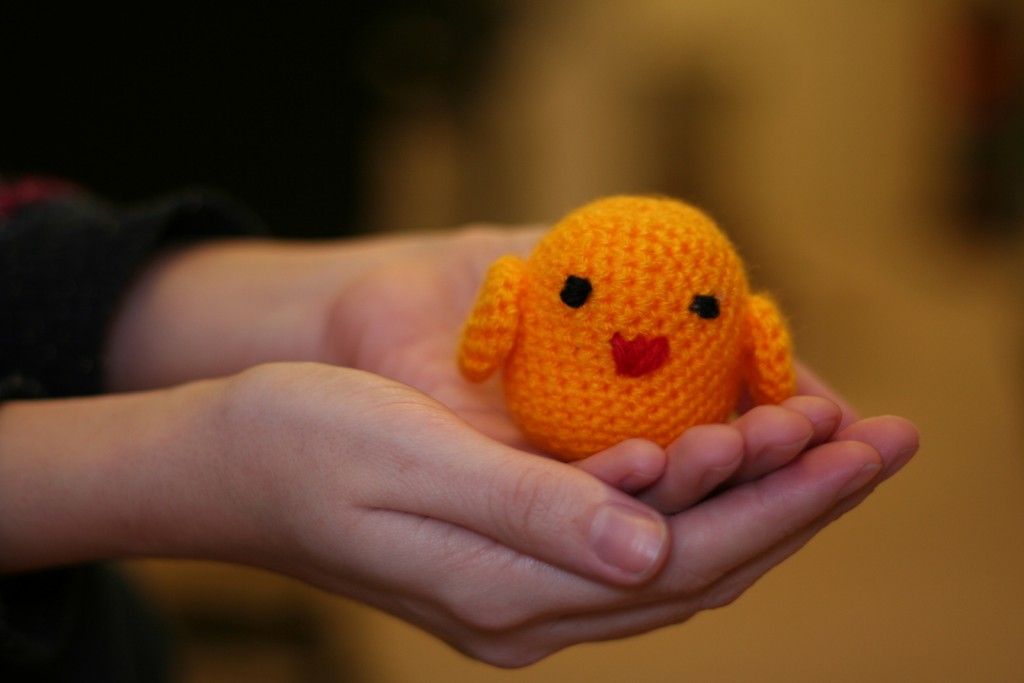 Round up of other ideas:
To wind up this post here are some other ideas I really wanted to make. The first is paper strip Easter egg art, which is super easy to do if you have lots of scraps of paper. You could even do it with magazine cuttings or whatever you have to hand. You could do it in the shape of a bunny or even use yarn to make the strips. These easy bunny goody bags look fab for giving out sweets. Finally, this pom pom bunny is the most adorable thing ever! I have grey yarn for another project and if I had some spare I would have made a few of these. They're just so darn cute!
Are you doing anything special for Easter? I'm going to cook a nice dinner and eat lots of mini eggs. I don't really like normal Easter eggs, am I the only one?