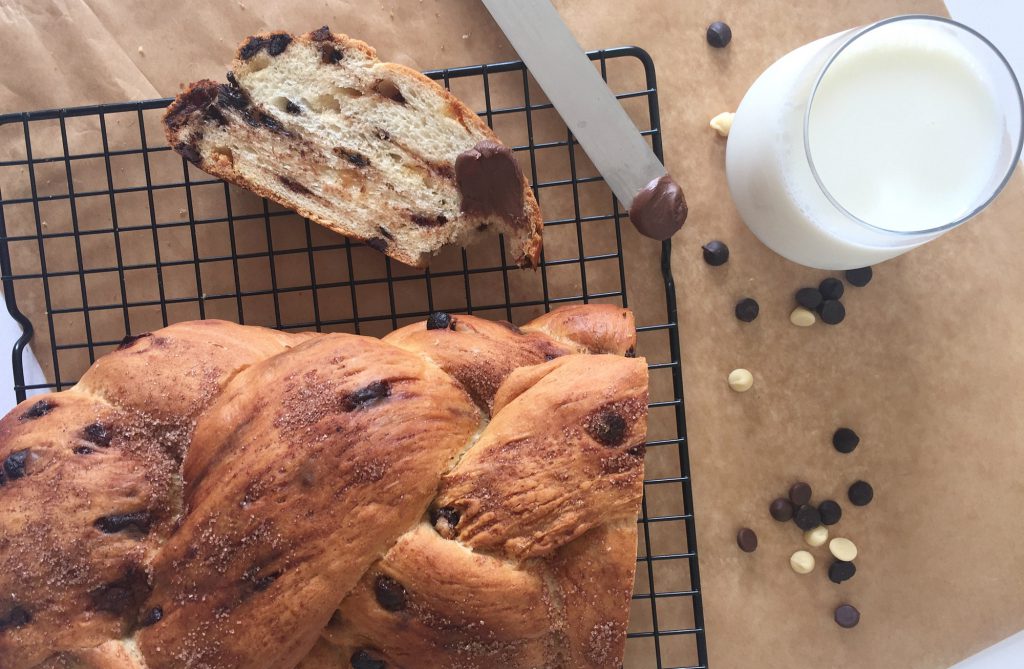 For the #bakeoffbakealong this week the challenge is bread. I haven't made much bread before even though it is on my 30 before 30 list. Wait, does this mean I can tick that one off? Just in time! I decided to make a chocolate chip cinnamon loaf as my husband was making a nutella braided loaf. He had to make a chocolate bread for a work competition and it looked really good. I'm gutted I didn't get to try any before he took it in!
I've adapted a Paul Hollywood recipe which is risky, it could all have gone completely wrong deviating from the recipe. I didn't want fruit in my loaf so I didn't use cherries and just added more chocolate chips. I also planned on adding cinnamon, but I forgot!! I'm going to blame baby brain. I did add it to the topping though. I'd run out of cinnamon so bough some especially, but that means I can start making apple crumble soon to use it up. I love the comforting bakes you can do in Autumn.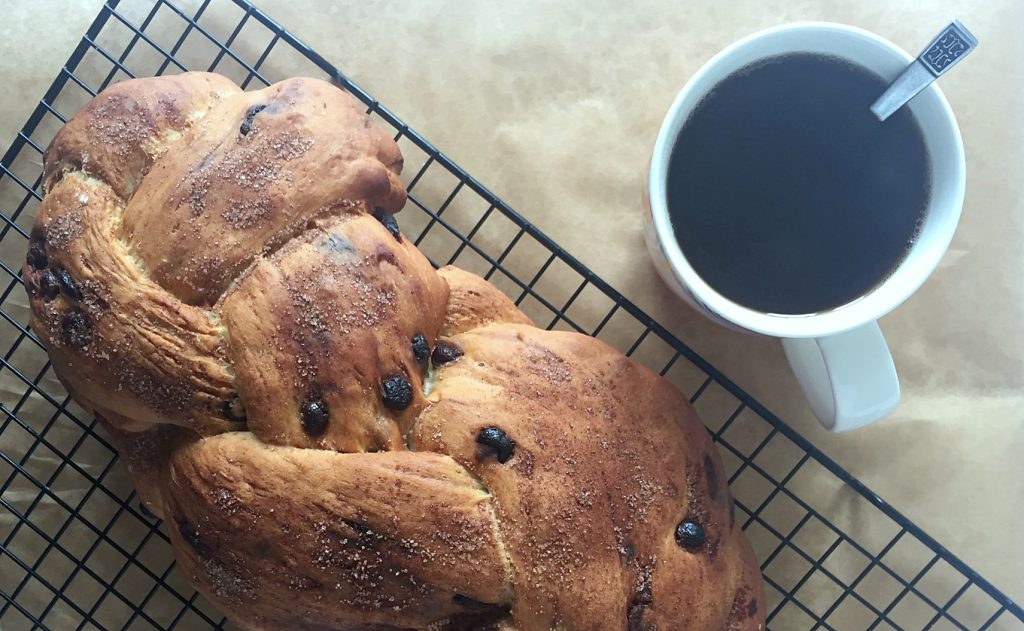 Chocolate chip cinnamon loaf
Adapted from BBC Food Chocolate and Cherry Loaf
Ingredients
500g strong plain flour, plus extra for dusting
2 tsp salt
30ml olive oil
15g dried active yeast
80g plain chocolate chips
80g milk chocolate chips
80g white chocolate chips
1tbsp ground cinnamon
For the topping
100g granulated sugar
3/4 tsp ground cinnamon
1/2 tsp cocoa powder
pinch ginger
Method
Put the flour into a large bowl; add the salt and olive oil. Make up your yeast following package instructions. Mine mixed 15g with 150ml of warm water. Slowly add 170ml water (it needs to add up to 320ml of water, so 320 minus what you used with the yeast) and mix by hand until the dough is pliable.
Tip the dough out onto a lightly floured work surface and knead for 5–7 minutes. Coat the chocolate chips with a dusting of flour and then add them to the dough. Mix well, adding a little flour if the dough becomes too soft.
Put the dough back in the bowl, cover with a clean tea towel and leave to prove until doubled in size (about 1 hour).
On a lightly floured work surface, divide the dough in half and shape each half into a long sausage-shaped strand. Lay one strand across the other to make a cross. Grab both ends of the bottom strand and pull the top end towards you, looping it under the nearer end. Lift the nearer end up and over the other strand. Repeat the looping and crossing, always working from the far strands, until the dough is all plaited. Push any loose ends under the loaf.
Dust a baking tray with flour. Place the loaf on the baking tray. Dust with flour, place in a large plastic bag and leave to prove for an hour.
Preheat the oven to 220C/200C(fan)/425F/Gas 7.
Mix the topping ingredients together and then sprinkle on the loaf before putting it into the oven.
Bake the bread for 20 minutes, then reduce the oven temperature to 200C/180C(fan)/400F/Gas 6 and bake for a further 20-25 minutes. Transfer to a wire rack to cool.
Serve when cooled.