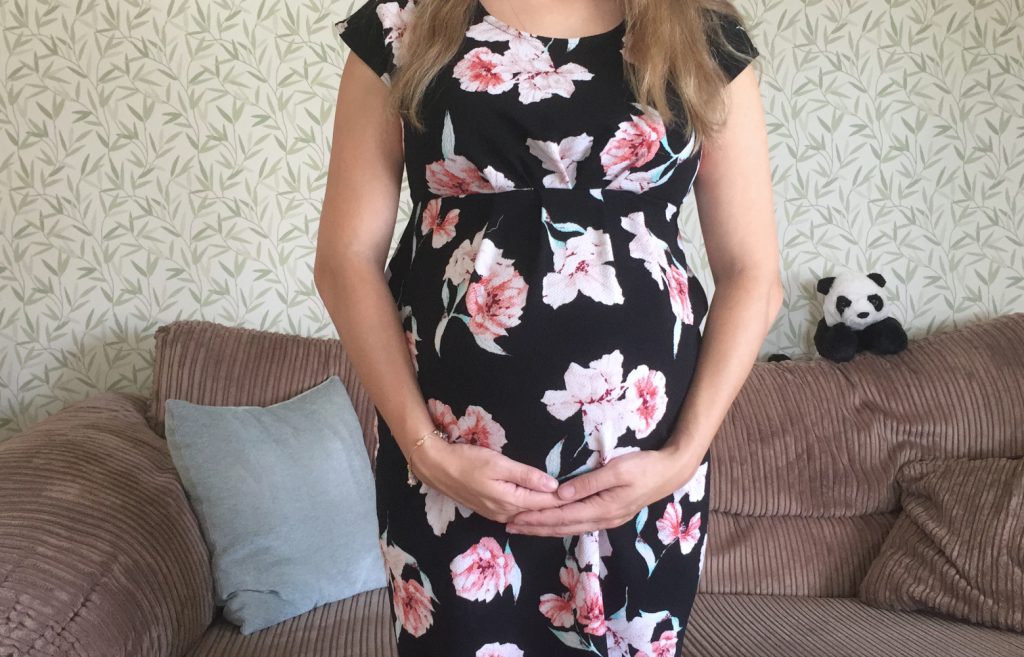 I'm coming up to 31 weeks pregnant, so here's an update on the last two weeks. They've been hard but I'm sitting here now feeling like I'm working through it all. There's also been some really special moments to cherish.
29 Weeks Pregnant
Wowzers it got hot this week! I can't budge my wedding rings and I'm definitely feeling the heat. Sleep has completely passed me by as I toss and turn trying to be cool and get comfortable. I've also been a little bit of a bitch if I'm honest and poor hubby took the brunt of that on Sunday – an IKEA trip didn't help.
I had a health visitor visit on Monday to talk through what they do and to see how my pregnancy is going. I mentioned that I was getting a bit emotional and stressed with work and at home. I'm putting a lot of pressure on myself (and husband) to get everything done before baby arrives, which is wrong. So I went straight into work and spoke to my line manager. Now I can work from home a little bit more, which will make me a lot more comfortable and give me time to work on work projects that need doing before I go off at 36 weeks. Getting it out and talking to someone definitely has helped!
We had our first breastfeeding class in the NTC course and it was really helpful! She showed us what positions would give baby a good latch and we got to ask lots of questions.
30 Weeks Pregnant
This week has been tough, I'm not going to lie. My emotions have been all over the place and stress levels ever increasing. I seem to have a knack of putting myself under immense pressure to get things done, whether that's at home or at work.
One amazing thing that happened on Saturday was seeing baby at a 4D scan. We went along to Window to the Womb for a 4D scan and saw baby pouting, opening and closing it's mouth and it's cute little hands. I was beaming, it was such a magical experience.
However, about an hour before the scan, as we were driving along with the air con on, my pulse went crazy. I was sat there and the vein in my neck was visibly pulsating really quickly. I felt fine though so we carried on. We were early for the scan so we went for a walk, that's when I decided to actually check my heart rate on an app. Simon checked his first to make sure the app was working and his came back pretty average for him. Mine though was 186bpm! It's usually around 60-70bpm. I still felt okay though so we headed back for the scan.
While I was sitting it just went back to normal. I rang the midwife centre after the scan and they said next time to call 111 or if accompanied by any chest pain to go to A&E or ring for an ambulance. It felt reassuring to know what to do if it happens again.
During the rest of the weekend my stress levels increased – my mind was racing and I was crying a lot feeling overwhelmed. I'm now taking a break from work to help relieve some of that pressure and give myself time to manage my stress better. It has given me the time to go swimming, do more walking and listen to my hypnobirthing cd. The doctor made me realise I have to start putting myself first and stop worrying that I'm letting everyone down. My body is doing a very important job and I need to look after it.
This week
Baby is now the size of a – cucumber.
My favourite moment was – seeing baby at the 4D scan. It's pouty lips make me smile.
My worst moment was – Feeling so overwhelmed and stressed. I just couldn't switch off.
I've been feeling – Stressed but also relieved that I've given myself time to cope.
I'm missing – Yoga, it was my last session earlier this week for the summer holidays. We also finished our NCT course so I'm going to miss meeting the lovely couples every week.
I've been buying for baby – I bought a paint tester for the nursery.
I'm craving – Nothing.
I'm looking forward to – We're going to do a tour of the midwife led unit this weekend.