I like the idea of going to a hotel for the wedding where we can have the ceremony and reception all in one place, but I thought I really should check out what else we can do. Winchester has a new registry office called the Basing Room and it looks amazing. The old Pendragon Room looked good, but this is so much better in my eyes.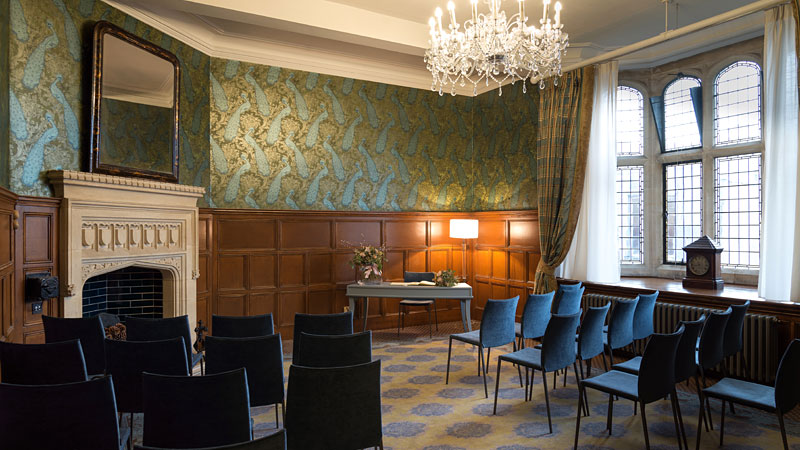 I thought about a church wedding, but the only church I wanted to get married in I'm not allowed to. It's St Peter's Catholic Church in Winchester and I'm not catholic. I went to St Peter's primary school and we used to sing carol concerts in the church. It's beautiful in there and it would mean a lot to me to get married there, but hey ho, it wasn't to be.
With a registry office in mind, we've been looking at locations for the wedding breakfast and reception. There are a lot of great pubs in Winchester which have small private dining rooms but these seem to be too small for us seating around 16-25 people. The Wykeham Arms behind the Cathedral or Chesil Rectory were at the top of my list.
When it comes to reception venues we can of course go to any of the hotels I've previously mentioned, but I wanted to look at other ideas. Realistically I don't think I could cope with doing everything from scratch, having to hire such things as cutlery and tables and getting caterers in. I've been looking for pubs and restaurants that may fit the bill.
Bourne Valley Inn
This is a beautiful country pub which often does weddings and events in its attached barn area. It has lovely wooden beams and a eclectic mix of ornaments around the building. We met the friendly staff for a chat and settled in front of a roaring fire with a glass of wine.
We decided to stay for dinner and opted for steak. It came on a wooden board with a little pot for the sauce in. I loved the rustic nature of the presentation and it tasted delicious. However I have realised I'm not a huge fan of braised red cabbage, is it supposed to be sweet? Is it just my bizarre tastebuds?
My worry with a venue like this is that there's no set package like the hotels, which does give you the freedom, but also terrifies me as then I have to plan more. Without a fixed price we just have to spend on the day the amount they'd usually take on a day like that. With our numbers quite small I worry that we wouldn't meet this. My other half really likes this venue so I might just have to rise above my worries and work through it to make a magical day.