Here are 5 easy toddler activities using items that you can find around your home. I'm always looking for activities I can set up for my toddler and I need them to be quick and easy for me to do. All of these activities use items that I have in the kitchen or around the house.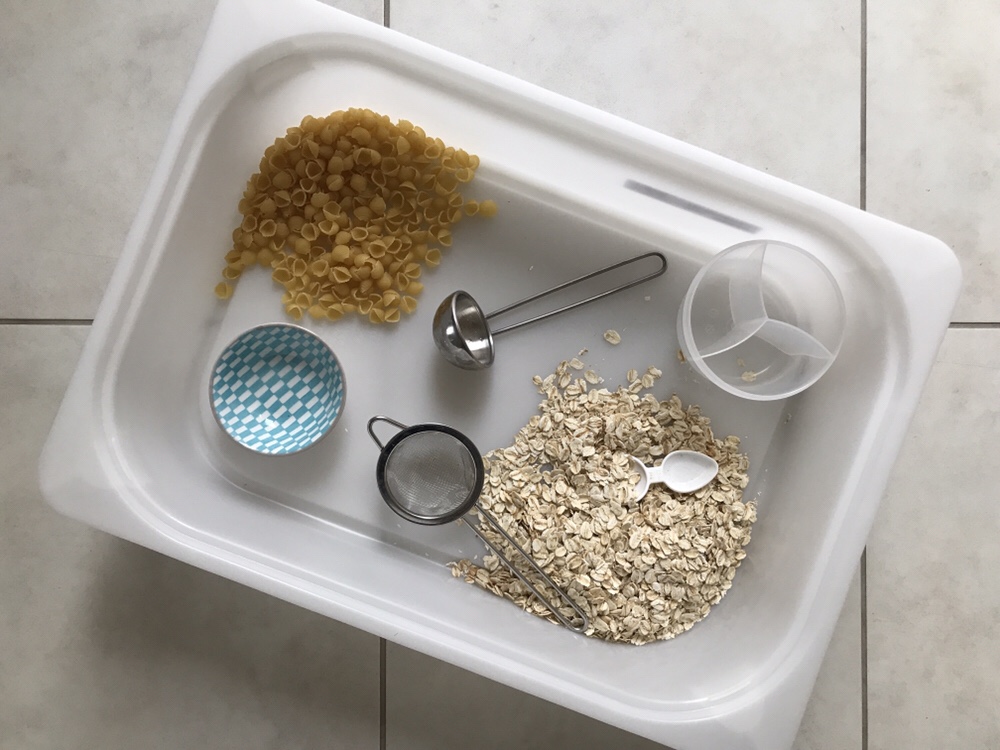 Threading pasta
I tied a big knot at the end of a piece of string and grabbed some penne pasta from the cupboard. Eleanor got a bit frustrated with this but she keeps trying to do it. I find if I hold the pasta for her she can get the string in more. I'm tempted to put some clear nail varnish on the end of the string to stop it fraying and it will be easier for her to point into the pasta.
Ecobrick
Have you heard of ecobricks? It's a plastic bottle that you tightly pack with unrecyclable plastic. I clean and dry plastic like crisps packets and then cut them up small. Eleanor picks them up and pushes them into the bottle. She also uses the other end of her mop to push the pieces inside down.
Homemade play dough
I've seen a few recipes out there that use cream of tartar but I don't have any of that. So I just used 1/2 cup flour, 1/8 cup salt and 1/4 cup of water. Most recipes use oil too but this seemed to work without it. This kept her busy for a good 40 minutes with some cookie cutters and a rolling pin.
I've recently bought the kids IKEA baking set for her to use with play dough and her kitchen. The rolling pin isn't as heavy or big as my one.
Water station
You could use a big bowl of water and some cups. I used an empty spice jar, an empty vanilla essence bottle and some yogurt pots. My daughter prefers playing with "real life" things rather than her toys.
Pouring and sorting
In an IKEA trofast tray I put some small pasta and oats. I then added a tea sieve, a little bowl, a spoon and some tupperwear. She happily spooned things into the pots and transferred them. She also took the mixture over to her kitchen and put it in the saucepans.
What are your favourite rainy day/indoor activities to do with your toddler?