Eleanor has been eating solids for nearly 3 months now. We started baby-led weaning at a little over 6 months old.
Watching her try new foods and eating favourites has to be one of the highlights of my day. She has come on so far in the short amount of time we've been giving her food.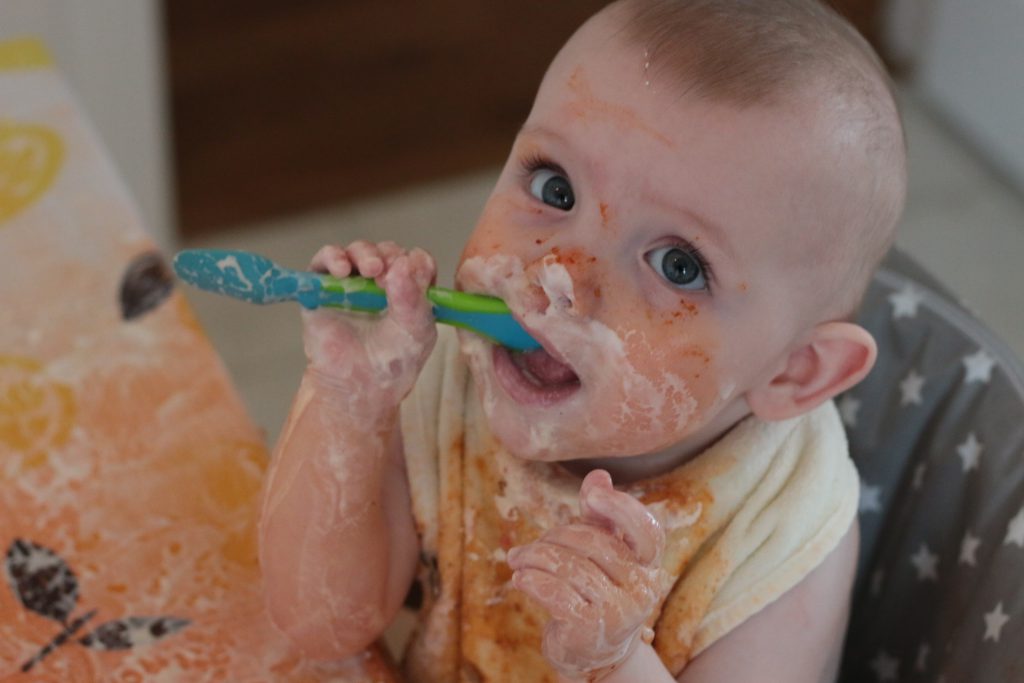 We have been on 3 meals a day pretty much from the start and she rarely misses a meal now. We have breakfast around 7:30, lunch at 12, and dinner around 5:15-5:45 depending if we're waiting for Daddy to get home or not.
I love watching her try to pick up little bits of food off the table. And the way she eats risotto always makes me laugh. She grabs a huge handful and shovels it into her mouth. It gets very messy.
The mess does do my head in but it's something that we have to deal with. Now it's warmer we're doing a lot of meals in just a nappy and then straight up for a bath. That saves me having to wash a load of stained orange bibs from a tomato sauce.
Eleanor's favourite foods
Crumpets with a little marmite
Mushroom risotto
Pasta bolognese
Cheese
Strawberries
Melon
Pinwheels with any filling
Homemade pizza
One food I wish she loved is broccoli. She picks it up, stares at it and then bashes it about before dropping it. It's a pain in the bum to clean up! I really like broccoli so I always still offer it to her.
At the moment vegetables aren't her favourite. I have to make sure they're included cut up in meals as she won't touch it if it's a stick.
What is your little one's favourite food?