We've been weaning Eleanor for 2 months now and she is doing so well. I love being able to see her develop and eat more as time goes on. We are doing baby led weaning and it really works for us. So here are my top baby led weaning essentials that I've found invaluable.
Long sleeved bibs
Now it's getting warmer we are starting to feed Eleanor in just a nappy but before we were using bibs. I swear by Sainsbury's Tu long sleeved bibs which are £3 each. Sauce and yogurt tends to go absolutely everywhere so a long sleeve bib protects her sleeves. I always take tights/trousers off as nothing seems to protect them.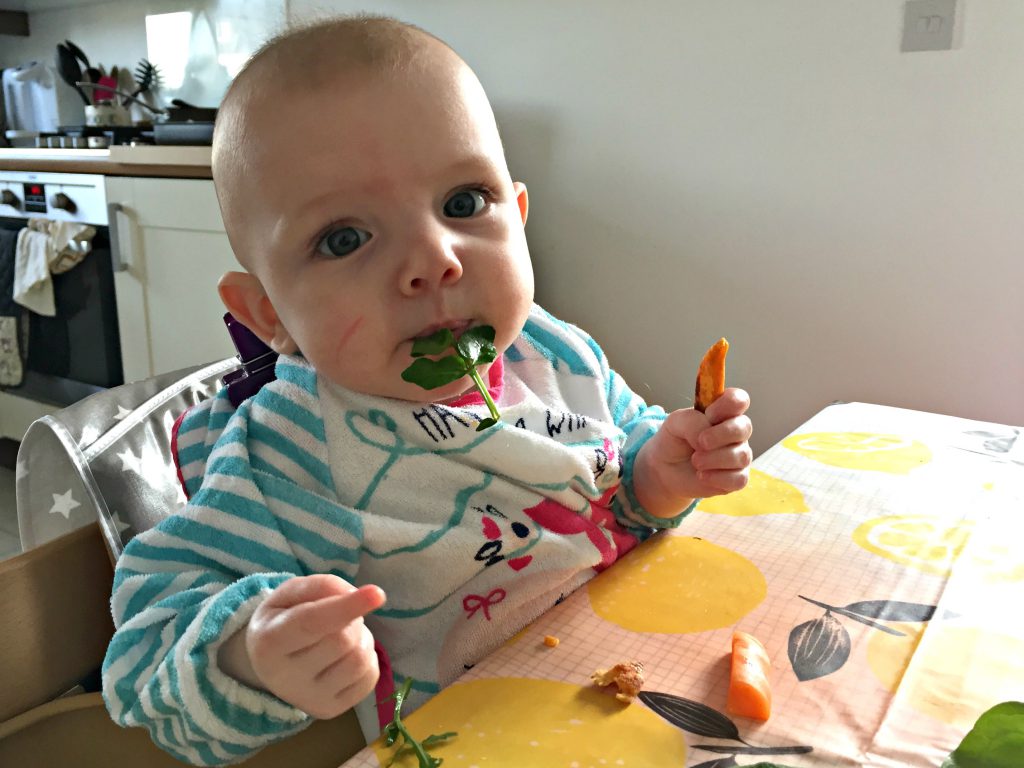 Portable high chair
I love our Chicco Pocket Snack. It's a small portable high chair that I can strap onto normal chairs and it even comes with a tray. This is great in restaurants where their high chairs are too big for Eleanor. We also use this in the garden. It does say not to use it standalone, but I don't use the legs and I never leave her unattended in case it tips. I picked it up for £20 in blue – have a look around as the colours seem to change price all the time!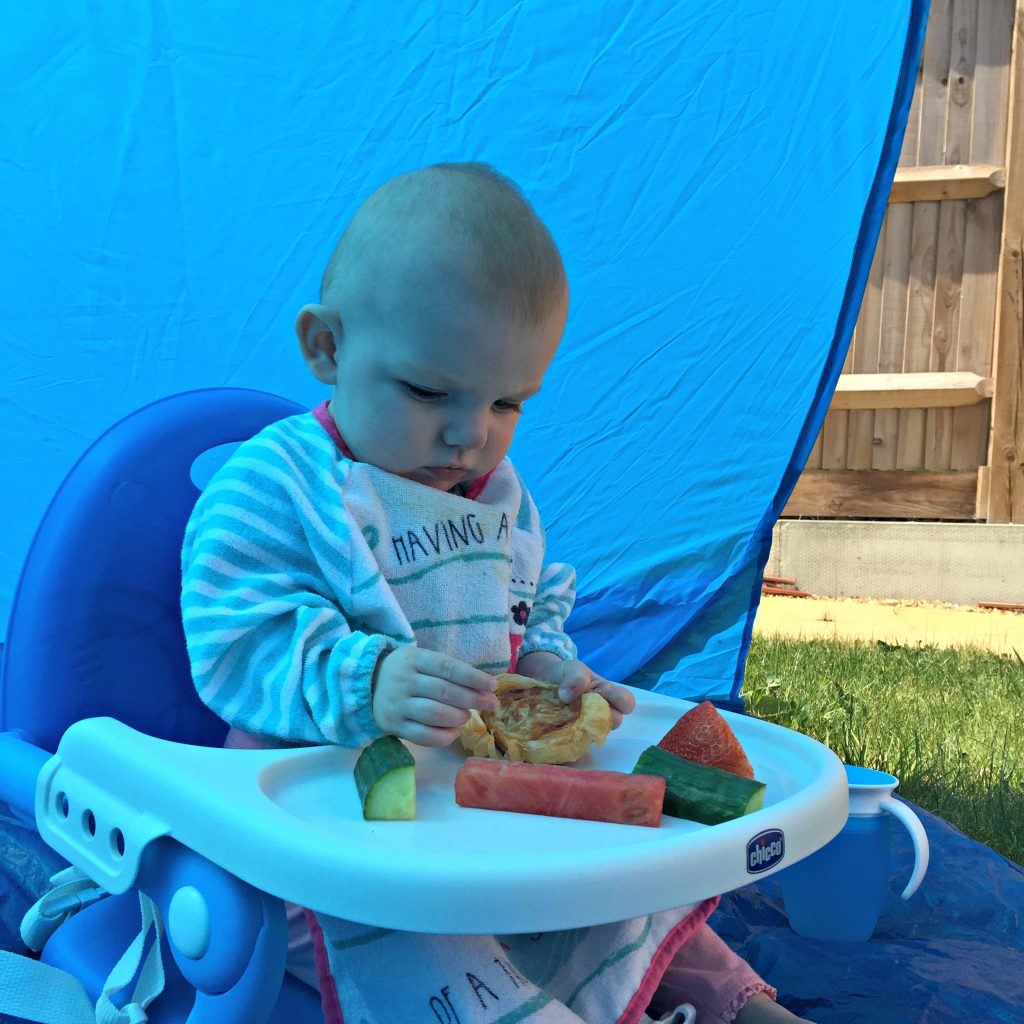 IKEA inflatable insert
We use an IKEA Antilop chair at both sets of grandparent's house so we bought a spare insert. These inflatable inserts are perfect when you're out and the high chairs are too big. I can blow this up really easily and pop it in most high chairs (although it doesn't fit in my Tripp Trapp).
A cheap tablecloth
I am so glad I bought a cheap wipe clean tablecloth. Does wood stain? I don't even want to try just in case it does. We seem to have bolognese a lot and you can see where Eleanor eats as the tablecloth is now bright orange!
You could also put a cheap tablecloth/shower curtain/material on the floor to use a dropping zone. Eleanor can fling food quite far so I haven't bothered.
A cup
Eleanor didn't really get one with a normal sippy cup as she just wanted to bite the end. I've found that she gets on best with an open cup. We use a Doidy Cup and I help her tip it so she doesn't get water all down herself. We also use the Nuby 360 which she is getting the hang of.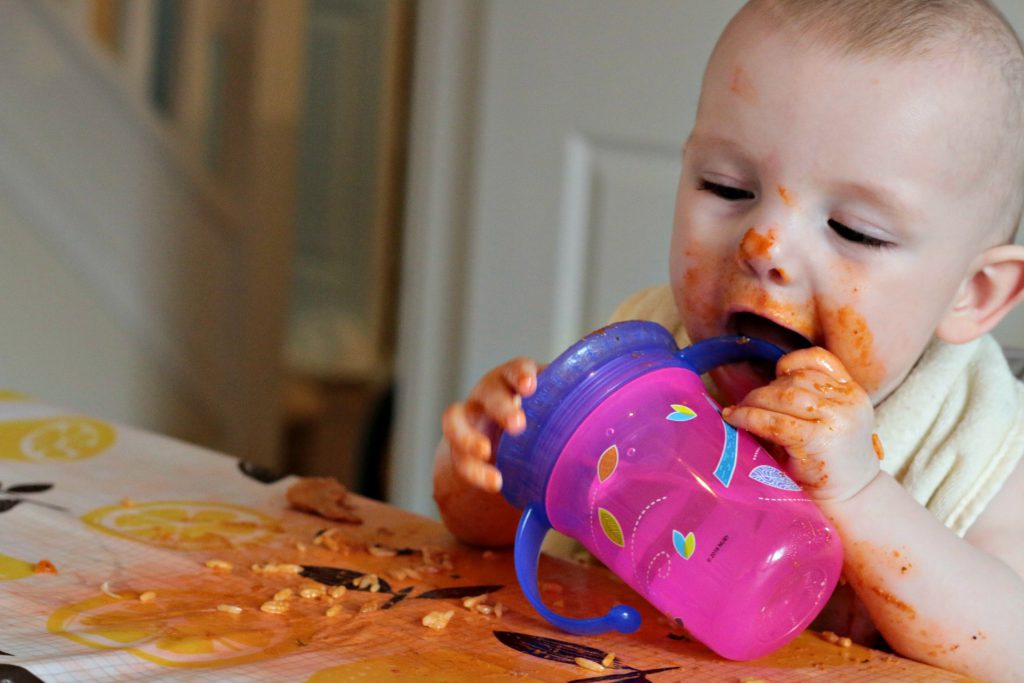 One of the benefits with baby led weaning is that there isn't that much you need. Apart from a high chair you could just let your little one eat in a nappy and you wouldn't need anything else.
We have a Stokke Tripp Trapp which isn't cheap, but I love how she sits up at the table with us. We eat every meal together as a family and although mealtimes take forever now it is so much fun watching her try everything.
If you do have a Tripp Trapp I really like this wipe clean cushion that's suitable for it instead of the Stokke cushion. It comes in some nice patterns; it's also cheaper and easier to clean.
What are your weaning essentials?
Find out how Eleanor is getting on with baby led weaning at 9 months.
* This post contains affiliate links. In plain English, this means that I may receive a small commission (at no cost to you) if you purchase something through the links provided. I won't post a link to a product that I haven't used myself and love. Thank you for your support.